Hello fellow book addicts
If there is one series that you have to read this year it has to be The Royal series by Erin Watt. As always the first book Paper Princess was on heavy rotation on my Facebook timeline so the curious little book addict that I am decided to see what all the hype was about. Yep I was a goner, when I read the first book in the series.
So today I will be doing a double review. I should have left a review for Paper Princess a few months ago but didn't get a chance to write one because of all of the stuff I was dealing with in my life at that moment.
So today like I mentioned you guys get a two for one..
Lets begin with Paper Princess.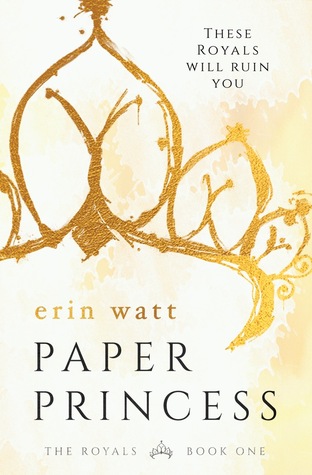 Release Date
April 4th 2016
Purchase Links
Amazon
B&N
Blurb
From strip clubs and truck stops to southern coast mansions and prep schools, one girl tries to stay true to herself.
These Royals will ruin you…
Ella Harper is a survivor—a pragmatic optimist. She's spent her whole life moving from town to town with her flighty mother, struggling to make ends meet and believing that someday she'll climb out of the gutter. After her mother's death, Ella is truly alone.
Until Callum Royal appears, plucking Ella out of poverty and tossing her into his posh mansion among his five sons who all hate her. Each Royal boy is more magnetic than the last, but none as captivating as Reed Royal, the boy who is determined to send her back to the slums she came from.
Reed doesn't want her. He says she doesn't belong with the Royals.
He might be right.
Wealth. Excess. Deception. It's like nothing Ella has ever experienced, and if she's going to survive her time in the Royal palace, she'll need to learn to issue her own Royal decrees.
I'm not going to lie when I first saw the cover on Facebook before reading the blurb, I thought that I was going to get a fairy tale type story.
Not even remotely close.
This story reminds me of the movie Cruel Intentions mixed with Mean Girls, with a whole lot more angst and drama.
I could not put this book down.
I really wanted to hate the Royal boys but couldn't when their backstory came to light. I did despise them in the beginning when they alienated Ella. They did however redeem themselves when they started banding together to protect Ella at school.
The one character whom I really connected with was Easton, Reed's younger brother. When you read about the boys you really think "Reed is the most damaged of them all", but it's actually Easton. I literally wanted to jump through my kindle and console him. The bond that Ella and East have is one where I know that she can get through to him and his self destructive ways.
There are many challenges that Ella face in this book but I will not divulge on because I hate putting spoilers in my review.
I will say this...
Be Prepared For The Ending!!!!
Cliffhanger Alert!!!
If you have read this book then you know what I mean, but if you haven't then your in luck because the second book in The Royal series was released earlier this week. So you don't have to wait like I did to get the next installment.
Rating 4.5 out of 5 stars
Now on to the next review...
Release Date
July 25th, 2016
Purchase Links
Blurb
These Royals will ruin you…
From wharf fights and school brawls to crumbling lives inside glittery mansions, one guy tries to save himself.
Reed Royal has it all—looks, status, money. The girls at his elite prep school line up to date him, the guys want to be him, but Reed never gave a damn about anyone but his family until Ella Harper walked into his life.
What started off as burning resentment and the need to make his father's new ward suffer turned into something else entirely—keep Ella close. Keep Ella safe. But when one foolish mistake drives her out of Reed's arms and brings chaos to the Royal household, Reed's entire world begins to fall apart around him.
Ella doesn't want him anymore. She says they'll only destroy each other.
She might be right.
Secrets. Betrayal. Enemies. It's like nothing Reed has ever dealt with before, and if he's going to win back his princess, he'll need to prove himself Royally worthy.
This is the second installment of The Royals series.
This book is from Reed's and Ella's points of view, where as Paper Princess was from Ella's point of view.
I like that you get to see a second side of the story instead of just one point of view.
Reeds world is starting to fall apart and he could care less what happens at Astor prep without his direction. His only focus is finding and making things right with Ella.
If you have not read Paper Princess I suggest you do or your not going to know what's going on.
We were left off with a cliffhanger in Paper Princess.
That was one hell of a cliffhanger..
In Broken Prince we really get to see what happen from Reed's point of view. The first few chapters is Reeds, Ella point of view does not come in until the 8th Chapter. I think that was a good choice on Erin's part because we get to see how the Royals tick through Reed's eyes. You get to feel Reeds pain and guilt and not think it was another trick of his to get rid of Ella. Basically you get to see what makes Reed tick.
Broken Prince is way more intense than Broken Princess due to the cut throat drama from those who want to be a Royal to those who want to dethrone them. Just like with the previous book, this one I could not put down and actually finished it this morning.
What I loved about this second installment was that Ella broke out of her insecurities and decided that she has had enough of everyone's BS and stands up for herself, instead of just blending in. Ella also had to realize that she is not alone like she was before she met the Royals. I also liked that Callum was not as oblivious as the Royal clan though when it came to those wanting to bring his family down or use them.
The Royal family may be broken but they protect their own.
There were times when I out right gasped because of a shocking development in the story
Especially
The

Ending!!!
My goodness Erin is going to give me an anxiety attack with that ending.
I officially have a book hangover.
But
I can not wait to read Twisted Palace!!
Downside we have to wait til October
*Pouts*
I will say that the Royal Series is one of my top books of 2016 and will be rereading Paper Princess and Broken Prince before the release of Twisted Palace.
Rating 5 out of 5 stars
If you want to follow Erin Watt click on the links below
*Side note*
(Covers and blurb for both books borrowed from GoodReads)