Hey Addicts! I'm back for another review and this time it's of a book I LOVE! I think it's the first book I've given a 5 star to here on Miss Little Book Addicts House of Books. Aint it grand!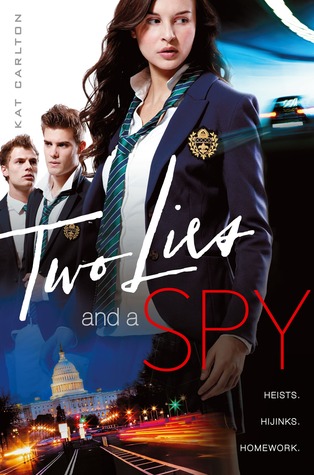 Kari plunges into the world of espionage on a mission to save her parents while trying to impress the guy she's been in love with forever.
When sixteen-year-old Kari's dad sends her an unexpected text, she and her brother immediately go into hiding. Because when your parents are superspies and your dad declares a Code Black, it can only mean something bad. Very bad.
Kari soon discovers that her parents have been disavowed and declared traitors, and she's determined to clear their names. Breaking into the Agency seems like a reasonable plan, especially with the help of a team that includes her longtime crush, Luke, as well as her two best friends—an expert hacker with attitude and a master martial artist—and Luke's popular, vindictive twin sister. Oh, and a new guy, who's as cute as he is complicated.
.
I read this book about a month ago now. I was jonsing for a good YA spy book and in the span of five days I read four different spy books. Sad to say out of the four, Two Lies and a Spy was the only one that left me feeling like I had to have the second book RIGHT NOW!
I mean OMG what a fab book. There was everything you could want: fast paced plot, edge of the seat griping action, more that enough mystery and plot twists I wouldn't have expected. PLUS two very hot guys. One that Kari had been crushing on for ages, Luke, and another foreign boy, Evan, that drives her mad and is always turning up at the most inopportune times and when he's not really wanted, for Kari at least.
Kari is the main hero who is well developed and is a character that I related too almost instantly! (All the characters were actually really well developed, even the annoying characters. Kari is the daughter of two spies working for the CIA. She is at her high school when things go bad and she gets a distress text from her parents. Cleverly she plans to ditch but ends up having to escape the school through the window of the girls bathroom because said foreign hottie, Evan, was hovering like a creeper stalker. Once free she immediately flees to get her younger, genius brother Charlie, so they can flee with their parents. And that's where things go really bad!
P.S. Charlie is the coolest 7 year old little brother in history!
The fast paced spyjinx that follow were wonderfully executed by out author Kat Carlton, it was like I could see it all clear as a TV show. And when a book can make me see and feel what the characters are experiencing is beyond great! I wish I could find more books that would the same for me!
Back on track……Kari
can't prove her parents innocence,
and
find out what the government have done to them, by
herself and
ends up having to involve her long time crush, Luke, her bestie Rita, her martial arts bestie Kale, Luke's annoyingly cheerleader b with an itch sister, Lacey, and a reluctant Evan. You see her parents are accused of being double agents for the Russians! That's enough to put any girl on the edge of the bridge.
Like I said the action in this book is amazing, well done with just the right amount of reality and overt he top spyness to be better than the average YA spy book. I won't give away the rest of the plot, but wham-bam there are two twists I didn't see coming and they were what really hooked me on this series. Please release the second one…like…NOW.
There was only one thing I can say I didn't really like, and that was how Luke suddenly started showing his feelings for Kari, all at once without much lead up, and the romance between Rita and Kale. I would have liked to see that instead of getting one or two glimpses then being told about it later on.
But considering this is the worst thing I can say about
this
book...I can deal. I just hope in book 2 we get to see more of what we missed with Rita and Kale. Two Lies

and

a Spy ended with a lot of plot lines neatly tied off, but with enough of a cliffhanger to set up what promises to be an amazing and well worth the time

and

money series! Fans of Ally Carter will dive into this book head first and float along side the few other great YA spy books/series that are out there for us.
As always, feel free to drop me or MLBA a comment or tweet or email, whatever, if you want to have a fun discussion or if you don't agree with my opinion of this book!
That's it from me this time! Catch you Addicts later!