June 19th, 2013
So.... here I am and I finally made the decision to create a blog. Sometimes I wonder what in the hell was I thinking to create a blog(insert me yelling at my kids now here)you will get that every now and then so don't be alarmed lol. Now where were we... Oh yes what made me create a blog. Well for one this is therapeutic and two I get to express how good or bad a book I am reading at that particular moment is. What I hope to do for you all is blog about me reading books and posting about it throughout the book. Kinda like chapter by chapter playback except it won't be if that makes any sense(it did in my head anyway lol). Sorry folks if the books I discuss is a book you already read. I am still trying to catch up to the 692(wow I've been a busy little bee) nook ebooks that I have. Also not to mention I still haven't unpacked my suitcase and overnight bag that is full of books from My first trip to The Romantic Times convention in May.(the husband was not happy when he had to load those two items in the van when he picked me up from the airport when I came back lol)
And now for our getting to know you section of the blog.
Hi My name is Rita and I'm a 32 year old wife and mother of 4(1 girl(step-daughter) and 3 boys) so in addition to my little troupe I am also a Lead line cook in a restaurant for a Major Hotel Chain. My Loving Husband a.k.a my dork I will be referring him to that from here on out lol is a Handyman by day a gun range addict by evening lol. But you will get a little sneak peak into my personal life peppered in here and there. Oh and if you would like for me to talk about cooking please feel free to let me know or shoot me a question and I can try to help. Oh I forgot to mention what gene's of books I read hmmm... I love paranormal books( I get that from my daddy he's a huge Stephen king fan) I also love romance,paranormal contemporary, some historical etc., Erotica and young adult. My favorite Authors are Jeanine Frost, H.p Mallory, Molly Harper, Karen Marie Moning, J.R Ward, Chloe Neal, Sylvia Day, Olivia Cunnings and the list goes on and on lol.
Now that we have introductions out of the way let me get into what I am currently reading.
Drum roll please..........
Entwined With You By Sylvia Day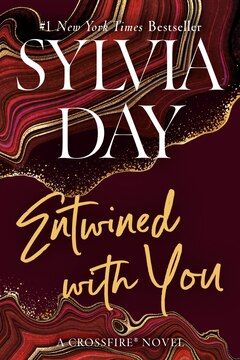 So I just started reading this like the day before yesterday and holy hell right off the bat (well not right off the bat but you can get my drift) you have that explosive chemistry between the two main characters Gideon and Eva but with the good comes the bad they are still dealing with issues/situations from Reflected in you. I'm pretty sure that everyone have read the whole Crossfire Series and if not SHAME ON YOU!!!! lol joking seriously pick that book up you will be hooked. It is far far far better then Fifty Shades of Gray. Actually Bared To You was the first post Christian Grey book I read based on B&N recommendations. But anyway if you haven't checked out any of Sylvia Day's work please do so it's totally worth it. I'm not going to discuss too much of the book today because like I said I just started reading it. But I will give you updates through out of me reading Entwined With You.
Now that we have that out of the way. I now feel competent enough not to bore you to death lol. I appreciate any feed back as to how this blog can work for me and for you :-)
MissLittleBookAddict